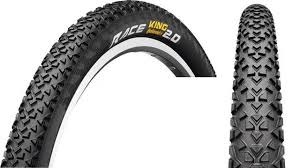 Race King 29x2.2 Fold ProTec +
$64.95
Buy Two get 20%: mix and match:
2
20.00%
A classic competition tire which feels at home at the Cross Country World Cup or at marathons.
Low rolling resistance, good self-damping and low weight make it the right choice for all race bikes.
Excellent puncture resistance thanks to continuous ProTection TubelessReady insert from end to end. Treads and sidewalls are equally protected, and are 25 % lighter and offer 30 % more puncture protection than their predecessors protected by DuraSkin®. Rolling resistance and absorption has also significantly improved. The new Made in Germany technology allows it to withstand even the hardest trails across the world.
Excellent grip, high mileage and efficient rolling thanks to BlackChili Compound.
BlackChili Compound improves rolling resistance by 26 % and provides 30 % more grip than activated silica compounds.